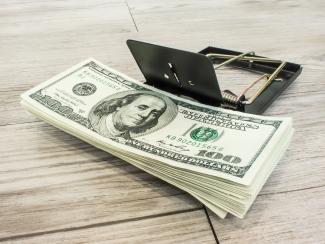 You are probably familiar with the parable in the Bible of the rich fool. It is about a farmer whose land produced a bountiful harvest. He then decided to build bigger barns to store his abundance. But God said to the rich farmer, "Fool! This night your soul is required of you, and the things you have prepared, whose will they be?"
If we are not careful, we can easily miss the intended message of this story, likely because it is difficult to relate to the times in which the parable was told. The following is how author, Harvard grad, and COO of Generous Giving – John Cortines paraphrases the story of the rich fool.
"And Jesus told them a parable saying, the stock options belonging to a manager vested after a major run up in share price. And he thought to himself what should I do? For I already have enough saved to send my kids to college, my house is paid off, and I max out my 401k every year. And he said, I will do this… I will open an investment account and create a passive income portfolio and I'll exercise my options and put my money there. And I will say to my soul, "Soul, you have a big enough portfolio to be financially independent. Retire early, plan some vacations, play golf." But God said to him, "Fool, this night your soul is required of you and the portfolio you bought, what use is it to you then?" So is the one who endlessly builds his net worth and is not rich toward God."
This may be an odd message to read coming from financial advisors. We want to be clear about a couple of things. Being wealthy is not a sin. Money is not evil. However, allowing money and possessions to be your god is evil. If we are honest, we have all been guilty of this sin at some point along the way.
Our prayer for you is that you put your hope in the One who offers a satisfaction far greater than anything money could ever provide.
As always, if this story piques your interest and you want to discuss it further, give us a call. It is a pleasure serving you!
Sincerely,
Power Financial Group
---
Securities offered through LPL Financial. Member FINRA/SIPC.
The opinions voiced in this material are for general information only and are not intended to provide specific advice or recommendations for any individual.
The opinions expressed in this material do not necessarily reflect the views of LPL Financial.