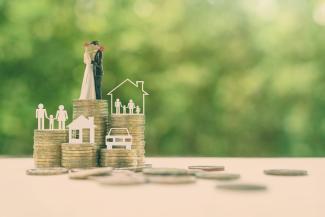 I think we can all agree that money touches every area of our lives. It influences the career we choose, the cars we buy, and the lifestyle we enjoy. The focus of this month's newsletter is an area that is quite possibly impacted the most by money…our marriages.
According to Dave Ramsey, personal finances is the #1 reason married couples fight. It is also listed as the #1 cause of divorces in the United States. Here are a few statistics from financial guru Michelle Gardner that might explain why money is a stressor in most households:
70% of American families live paycheck to paycheck.
The average American family has $173,000 in debt.
40% of people commit "financial infidelity" defined as making a large purchase, opening up a new line of credit, or having large amounts of debt their spouse doesn't know about.
So what is the solution? How can we win the money game and not allow it to negatively impact our marriages? Here are 3 suggestions:
Communicate often. While it is completely normal for one spouse to "handle the money", that is not an excuse to leave the other spouse in the dark. Be transparent (and honest!) about your financial situation with your spouse. Talk regularly, meet occasionally, and plan accordingly for all aspects of your finances.
Educate yourself. Don't allow the complexity of managing your family's income to stress and overwhelm you. Read books, ask questions, and seek wise counsel when more info is needed. You have all the tools you need to lead your family well.
Dream Together. Are you saving up for a new car? Or boat? Or a nice vacation? Maybe retirement is just around the corner and you are excited about the next chapter of life. Spend time together as a couple discussing hopes and dreams. This is not only fun but will also strengthen your marriage and bring you closer together.
Lastly, let me encourage you to work as a team. 2 becoming 1 also applies to your money. If you and your spouse can get on the same page with your finances, a happier marriage awaits you. As always, let us know if we can help!
---
Securities offered through LPL Financial. Member FINRA/SIPC.
The opinions voiced in this material are for general information only and are not intended to provide specific advice or recommendations for any individual.
The opinions expressed in this material do not necessarily reflect the views of LPL Financial.