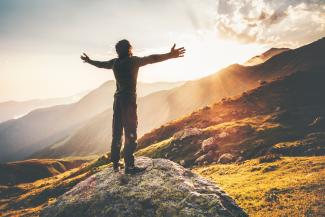 A few weeks ago I received a picture text from a good friend of mine. His truck had broken down and was being towed back to his home. I immediately responded that I was very sorry he was having to deal with that. This was his response:
"This is the day the Lord has made. I will rejoice and be glad in it." 
I smiled and told him I admired his attitude. He responded with these words:
"How can I not have a good attitude – Jesus lives in my heart!"
What an incredible way to view life! We have an attitude choice to make every single day. We can wake up each day look out the window and say "Good morning God!" Or we can roll over, pull the covers over our head and say "Good God, its morning!" How we view our life and our day makes all the difference in the world.
So how does this relate to money? As you are probably aware, the stock market has been volatile lately. If we are not careful, we will become negative and allow the ups and downs of the market to affect our overall attitude towards life. Here are three powerful Biblical truths that may help you keep a positive attitude about investing:
God owns it all. Psalm 24:1 tells us "the earth is the Lord's and everything in it, the world and all who live in it." There is no greater attitude about money than to acknowledge that God owns it and He can do whatever He wants with it. We are simply managers of all He entrusts to our care.
Contentment is a choice. Paul said in Philippians 4:12 "he knew what it was like to be in need and he knew what it was like to have plenty, but he had learned the secret to being content in any situation." We, like Paul, need to learn how to choose contentment. If you've ever spent time with an extremely content person, one of the first things you will notice is their positive attitude.
Giving breaks the power of money in our lives. 2 Corinthians 9:7 tells us that "God loves a cheerful giver." If you've ever found yourself obsessing over your finances, net worth, or account balances, it may be time to re-evaluate your giving plan. Nothing releases the grip money has on our lives like blessing someone else with what has been entrusted to us.
If you would like to talk more about these Biblical truths, do not hesitate to give us a call. And remember, this is the day the Lord has made. Let's rejoice and be glad in it!
---
Securities offered through LPL Financial. Member FINRA/SIPC.
The opinions voiced in this material are for general information only and are not intended to provide specific advice or recommendations for any individual.
The opinions expressed in this material do not necessarily reflect the views of LPL Financial.