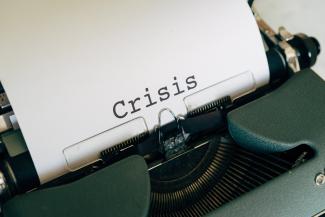 At the time of this writing, the United States stock market (S&P 500) has lost 29% of its value in 2020. What we just witnessed was the fastest drop in the history of our markets, as all of this occurred in a 3-week span. As you well know, it was driven down by fear of the coronavirus and its impact on the U.S. economy.
Prior to COVID-19's arrival in the United States, our economy was booming. Unemployment was historically low, corporate earnings were solid, and interest rates and corporate taxes were very favorable. The stock market had responded to this positive data by setting new highs in 2020. But, in late February and early March, panic and fear replaced economic fundamentals as the primary driver of our markets. So, what should we do now?
Before we answer that question, consider the following information. From 1950-2019, the S&P 500 produced a negative return 8,102 times. 100% of the time the stock market recovered from these drops and achieved a new record high. We see no reason why this most recent drop will not end in the same result. Based on history, the question is not "if" but "when."
This is very different than 2008-2009. During that difficult time, there were severe cracks in the financial system. Banks loaned money to people who couldn't afford to pay it back. Investors then purchased these packaged loans to make money. The borrowers stopped paying back the mortgages, thousands of foreclosures occurred, and eventually the whole house of cards collapsed. We truly had a major financial crisis. COVID-19 is more of a healthcare crisis than a financial crisis. The financial / economic impact is being felt as a result of the healthcare scare. By the way, do you remember how long it took the market to recover from what is now called the great recession? Only 4 years. Our prediction is it will not take nearly as long this time.
We cannot encourage you enough to stay long-term focused. The only 3 times we ever recommend selling your investments due to a short-term decrease in value are: 1) You are losing sleep at night and the decrease in value is affecting your quality of life. 2) You are 100% satisfied with the amount of money in the account and desire to go into preservation mode even if it means locking in losses. 3) Your goals and time horizon have completely changed for a reason other than fear. If any of these 3 apply to you, please give us a call.
Last, but certainly not least, thank you for allowing us to serve as your financial advisor. We have received so many messages of encouragement from clients letting us know they are praying for us. We can't begin to tell you how much that means. Times like these are difficult for everyone. But good will come from it! In the last few weeks we have seen more families in our neighborhoods outside enjoying quality time together than we all have seen in a long time. One of our advisors witnessed a patron of a restaurant praying with a waitress who was losing her job. We must remain positive and keep the faith. Let's focus on the things we can control starting with our attitudes. And, most importantly, let's not forget that God is still the one in control. In Him we trust!
Our prayer for you is that He will be with you and give you peace during these trying times. We are here if you need us.                                                           
"For God has not given us a spirit of fear, but of power and of love and of a sound mind."
Securities offered through LPL Financial.  Member FINRA/SIPC.
The opinions voiced in this material are for general information only and are not intended to provide specific advice or recommendations for any individual.
The opinions expressed in this material do not necessarily reflect the views of LPL Financial.